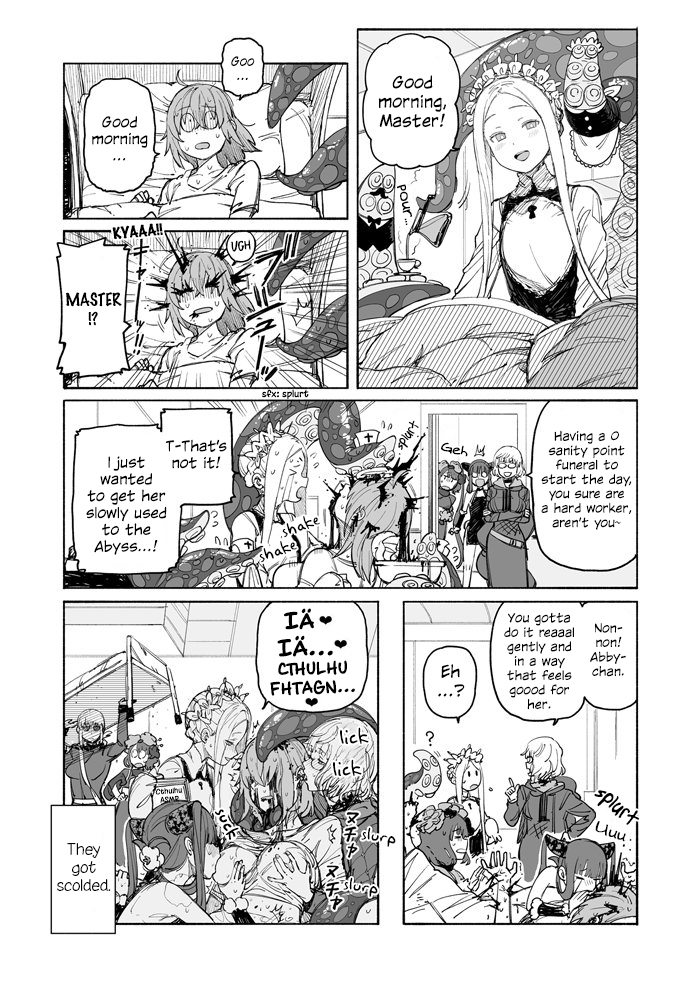 FluffyCow Jan 21, 2022 9:32PM
Dang it Nightingale, they were just administering sexual healing!

none Jan 21, 2022 10:16PM
This probably resulted in the birth of some abominations that will eventually menace the fateverse.

Ayahime0 Jan 21, 2022 11:02PM
Nightingale XD

Yuri Yuriyuri Jan 21, 2022 11:14PM
Nothing like a couple insanity induced brain hemorrhages to start the morning. Man Gudako is tough.

random Jan 22, 2022 12:33AM
Cthulhu ASMR
yet more bizarre things I did not know I needed in my life
Licentious Lantern Jan 22, 2022 2:10AM
The most amazing part is how she already gave her pointless CPR before the makeout session.

Missigno Jan 22, 2022 3:13AM
Master time to get used to staring into the Abyss!
dies

Linterdiction Jan 22, 2022 1:11PM
Gudako has too much Insight

random Jan 22, 2022 1:12PM
they had lots of SAN checks afterwards

KireusG Jan 22, 2022 2:30PM
Gudako x Ina

myrrhmidon Jan 22, 2022 7:06PM
I can only wish getting Frenzy in Bloodborne was this hot.

thechampionmike95 Jan 23, 2022 1:04AM
Birdhatter once again gracing us with amazing content