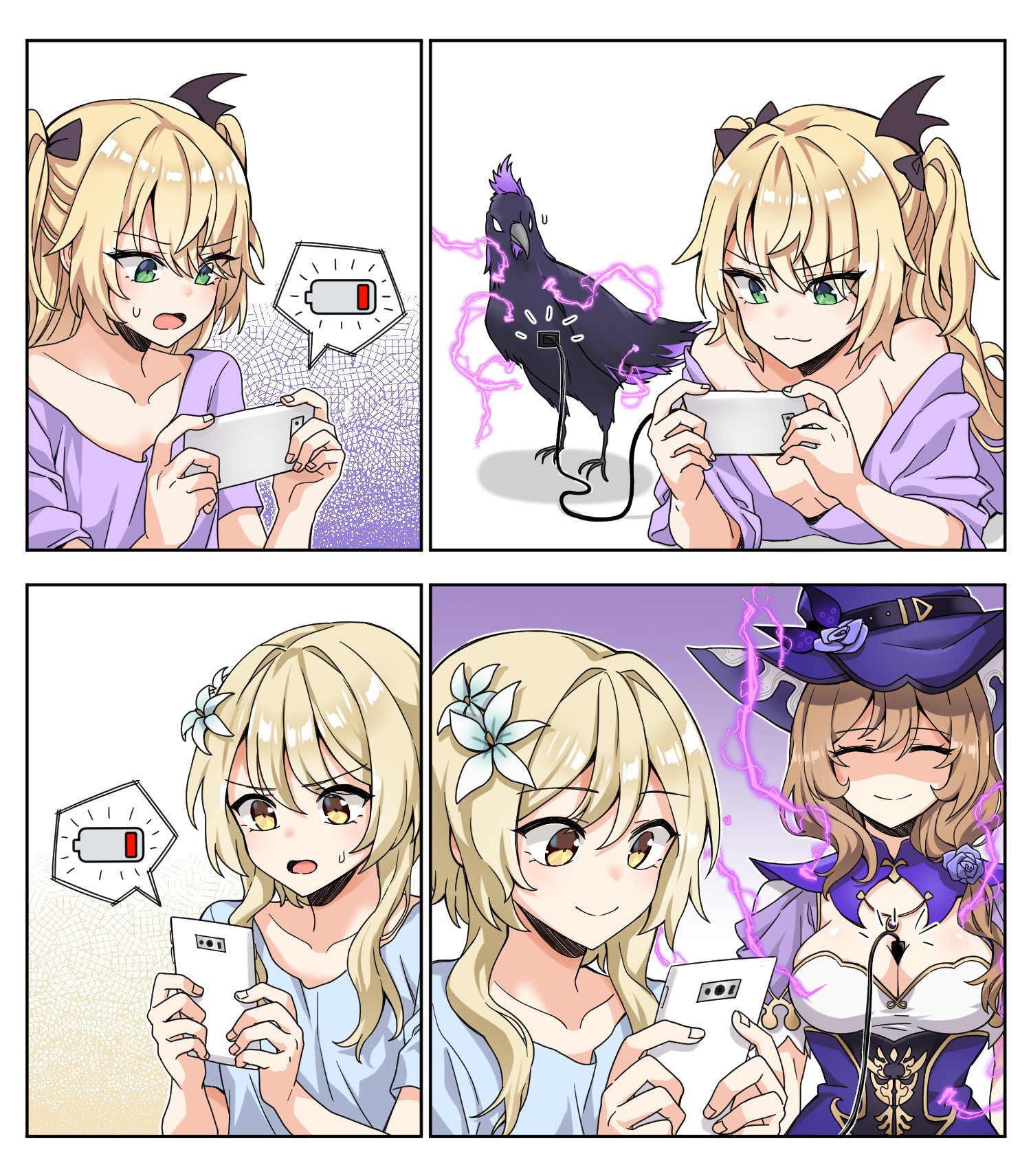 Givemeanaccount Aug 13, 2021 9:01PM
Titty power

random Aug 13, 2021 9:56PM
"And this is why I stopped distributing Visions."
- Baal
Lewdholder Aug 13, 2021 11:06PM
By that definition, if I ran out of juice in my cordless weed eater, I can just plug into Baal's boob and whenever I'm done with the job I can store it too. What a convenient

Missigno Aug 14, 2021 2:11AM
Omg they have a gaming date (i need my fischl x lumine crumbs)
You might charge your phones but who says Baal's boobs won't suck it away like a black hole

Random Wanderer Aug 14, 2021 9:11AM
Just started playing this. Lumine is adorable.
I'm really hoping I can actually MEET the characters who join the party, rather than just have them drop out of the sky due to gacha and adventure with us without a word.

random Aug 14, 2021 10:03AM
Nicoxmaki01 Aug 14, 2021 1:04PM
I mean doesn't Lumine have electro powers now, but I guess she prefers it that way since her phone can charge and then she can charge herself on Lisa too
jyujin98 Aug 14, 2021 2:52PM
Boob power socket? yes.
ckretaznmayden Aug 15, 2021 12:54AM
Off the top of my head, I think out of the entire playable character list, the only character we haven't canonically met yet is Xinyan… I think.
Norainhere Aug 15, 2021 1:19AM
Also Sayu, although that's more understandable since she was only just added to the game.

random Aug 15, 2021 12:11PM
Sounds about right, Youtubers call Xinyan "the most neglected character" for a reason. Would be surprised if she wasn't scheduled for a Hangout down the road though as that seems to be the devs' standard method of giving the more "peripheral" characters proper screentime.