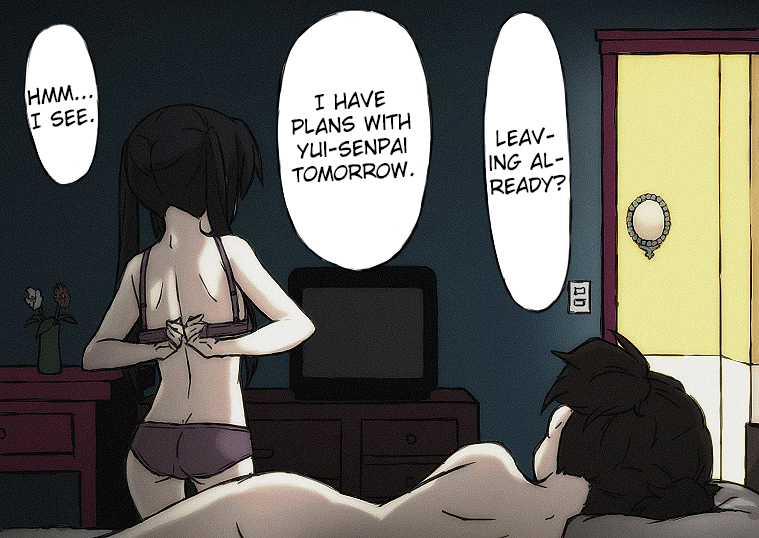 TsundereChan Jun 7, 2014 1:04PM
lolol like playing pretend
Rosenakahara Jun 7, 2014 5:02PM
yeah i really cant imagine azunyan as a player......

Akirio-chan Jun 19, 2014 12:34PM
Definitely would make a good doujin.

shiosaku Jan 17, 2015 12:43AM
O.O Oh MY GOD!!!!
FlameHazeKatsu Jan 18, 2015 10:33AM
damn.

Zane Halfdead Apr 21, 2015 10:30PM
Cold hearted.
Dardes Aug 27, 2015 12:14AM
Doesn't really say that Azu is dating Yui in this one doe ._. Maybe we should remove the Yui x Azu tag?
Gzt Dec 19, 2015 12:23PM
Why Azu-san!! Why would you cheat on Yui-senpai!! You jerk!! ;~; And fvck you Jun!!
(Not for real just going with my flow) Azu-nyan... Īe.... Azusa! Whyyyyyy!? My feelings..
Hating Azusa in a dark corner
last edited at Dec 19, 2015 12:25PM

HopeFromYuri Jan 18, 2016 4:39PM
O-O, you cheatard! Only Yui!
NobodySpecialxxxx Feb 12, 2016 2:47AM
Seeing Azusa in a different light. TT~TT) Why Azusa... just why?
ZuljinRaynor Feb 12, 2016 11:05AM
I really, really like Jun x Azusa. (I ship Nodoka x Yui). Unfortunately, Jun x Azusa stuff seems to be really rare. :(

shen123 Mar 27, 2016 7:31AM
woah .... ma mind

BakaChiki Jan 19, 2017 12:05AM
..,..its.....its...soo....different!..MY MINED ISH SO CONFUSED!! AZUSA..BABY WHA???

KireusG Mar 3, 2017 7:19PM
xDDD
Nekofanatic Mar 9, 2017 3:08PM
gaaahhhh!!
The emotional pain! How could you, Azunyan??

DankestMemeGenerator9000 Jan 2, 2018 7:46PM
Jun, you retard. You know that Azusa is only for Yui, right? Run now or I will beat you to a pulp.
Marion Diabolito Feb 11, 2019 4:06AM
She begged Yui not to graduate, remember? Even if Yui is still main girl, Azusa has NEEDS. Needs, people. Needs.