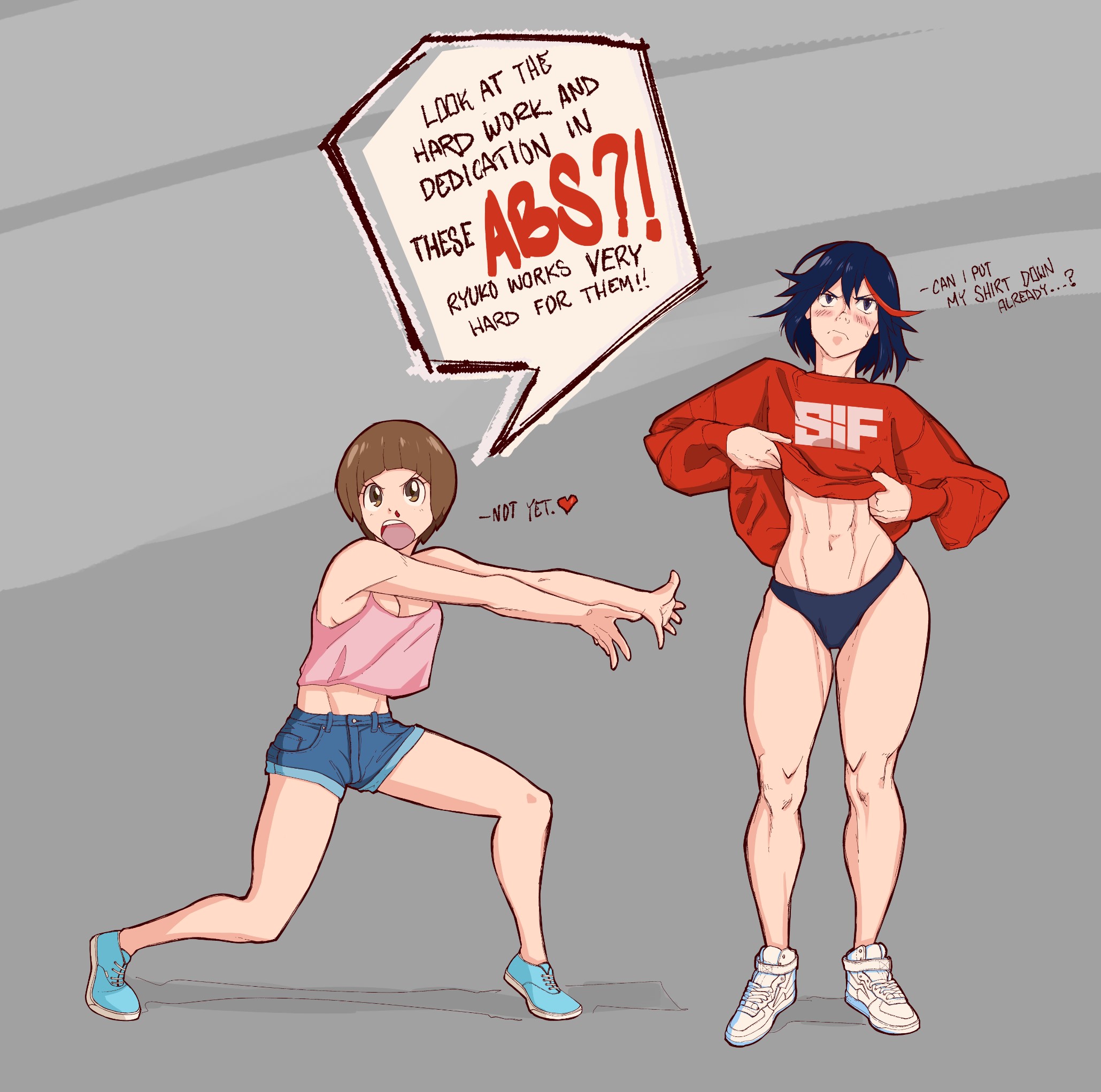 Norainhere Dec 4, 2020 9:23PM
Well, Mako's definitely not wrong. Speaking of which, Mako seems pretty toned herself.
Amersion_ Dec 4, 2020 10:44PM
If I did half the shit Ryuko did in kill la kill i'd be buff as hell too tbh

Kirin Dec 4, 2020 10:49PM
Mako is just lesbian Paul Heyman, and we love her for it.
KS YuuHaru Dec 4, 2020 11:30PM
Getting the Will Smith meme vibes jsjsjs....

Throbelisk Dec 5, 2020 12:27AM
The abs are phenomenal, but to just completely disregard those hips and legs....shame on you, Mako.
last edited at Dec 5, 2020 12:28AM

jehj93 Dec 5, 2020 12:36AM
Ugh fine
KZA Dec 5, 2020 12:45AM
You tell them Mako

minagi mikoto Dec 5, 2020 3:58AM
The nosebleed on Mako xD
BiohunterX Dec 5, 2020 6:59AM
wouldnt be mako's first nosebleed looking at ryuko
FluffyCow Dec 5, 2020 9:05AM
Abs are basically a gift from the gods, bless them.

Hot_Soup43 Dec 5, 2020 11:44AM
Her abs crafted by the heavens themself in a bid to make the perfect being.
They succeeded.

AWalkingPizza Dec 5, 2020 1:16PM
I am pogchamp
Megumiaki Dec 6, 2020 3:32AM
Ugh fine
Now you stop right there
last edited at Dec 6, 2020 3:32AM

juanelric Dec 6, 2020 12:26PM
This is great xD
Linterdiction Dec 6, 2020 1:28PM
"Haaaaaleluja!"
last edited at Dec 6, 2020 1:28PM

Karin_Courter Dec 7, 2020 2:33AM
❤ ❤ ❤ ❤ ❤