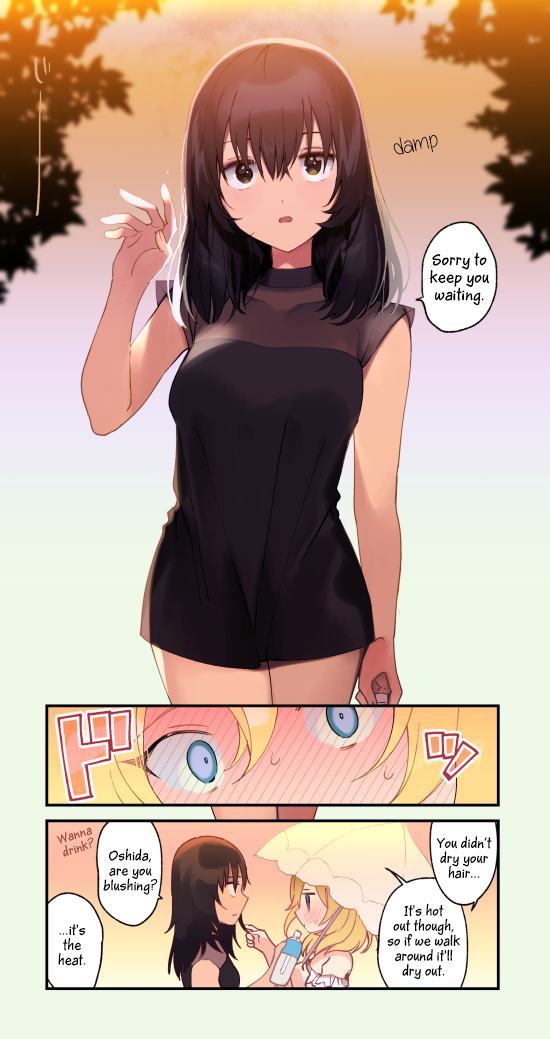 Woffle Nov 20, 2020 9:08PM
Oshida is definitely feeling the heat down there ( ͡° ͜ʖ ͡°)
ImheretoDie Nov 20, 2020 9:45PM
^ ( ͡° ͜ʖ ͡°)
Sabruness Nov 20, 2020 10:08PM
Woah, Andou really cleans up nice and Oshida's probably gonna need some fresh, dry panties ( ͡° ͜ʖ ͡°)
LilyScentedBubbleBath Nov 20, 2020 10:57PM
^( ͡° ͜ʖ ͡°)
KZA Nov 20, 2020 11:41PM
Andou looks really good with slick hair like that and the dress of course, it's no wonder Oshida is blaming the heat ( ͡° ͜ʖ ͡°)

Random Wanderer Nov 21, 2020 12:34AM
Heat. Yes. All due to the heat.
luinthoron Nov 21, 2020 5:50AM
I mean, I can definitely understand how she feels...

Azero25 Nov 21, 2020 10:22AM
been a while, nice seeing these two again
Mike98 Nov 21, 2020 3:47PM
( ͡° ͜ʖ ͡°)

Nene Nov 22, 2020 8:35PM
Never mind the hair, look at that dress! Any shorter and it would've been a shirt.

Lightsteam Nov 23, 2020 11:30PM
When she says it's hot she is'nt talking about the weather.

NoobyRwby Jan 21, 2021 1:05AM
Everyone : ( ͡° ͜ʖ ͡°)

Me : (⌐■_■) * EPIC*