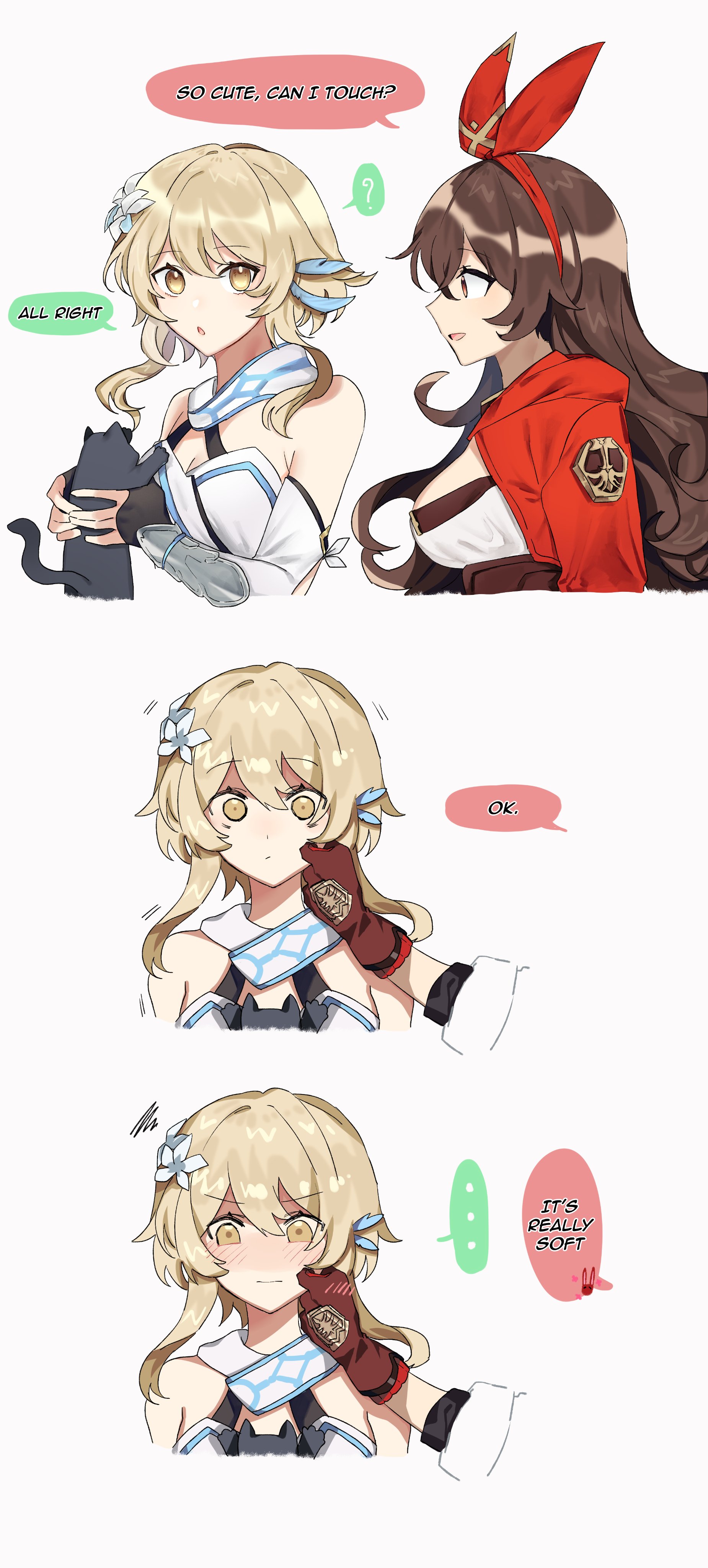 Norainhere Oct 16, 2020 9:13PM
I like the idea of Amber being a giant unintentional(?) flirt towards Lumine.

Nep Nep Oct 16, 2020 9:49PM
Hohoho i can only hope there will be more art of those two as the game continue~

Azero25 Oct 16, 2020 10:01PM
even the glove is blushing
Serenata Oct 16, 2020 11:41PM
She might not be meta in game, but she's meta in ships

Kirin Oct 16, 2020 11:51PM
A cat is fine too.
ImheretoDie Oct 17, 2020 12:32AM
I-is the cat dead???

mudfire Oct 17, 2020 12:41AM
GENSHIN IMPACT YURI?

AnimeSavesMe Oct 17, 2020 2:41AM
YES! YES! MOAR!!! I SHIP THESE TWO!!!
Aquwin Oct 17, 2020 2:52AM
Needed
Giee Oct 17, 2020 8:02AM
What's better than Genshin Impact?.....
Genshin Impact with yuri
Xvnom Oct 17, 2020 12:47PM
Cute :3
MartZ Oct 17, 2020 5:22PM
(๑ↀᆺↀ๑)

Flanny Oct 17, 2020 9:19PM
She may be D-class on Tier list, but she's S-class on Ship List (and memes)-
BTW, screw Tier list...

usernameornickname Oct 18, 2020 12:33AM
Next day, she has a red mark on her cheek the shape of a hand.

LoveHeart Oct 19, 2020 11:23AM
I need more of this ^^

KitsuYuri Oct 19, 2020 5:11PM
YES! DAS CUTE
Sae Oct 19, 2020 7:05PM
I never thought about this ship, thank you
I want more