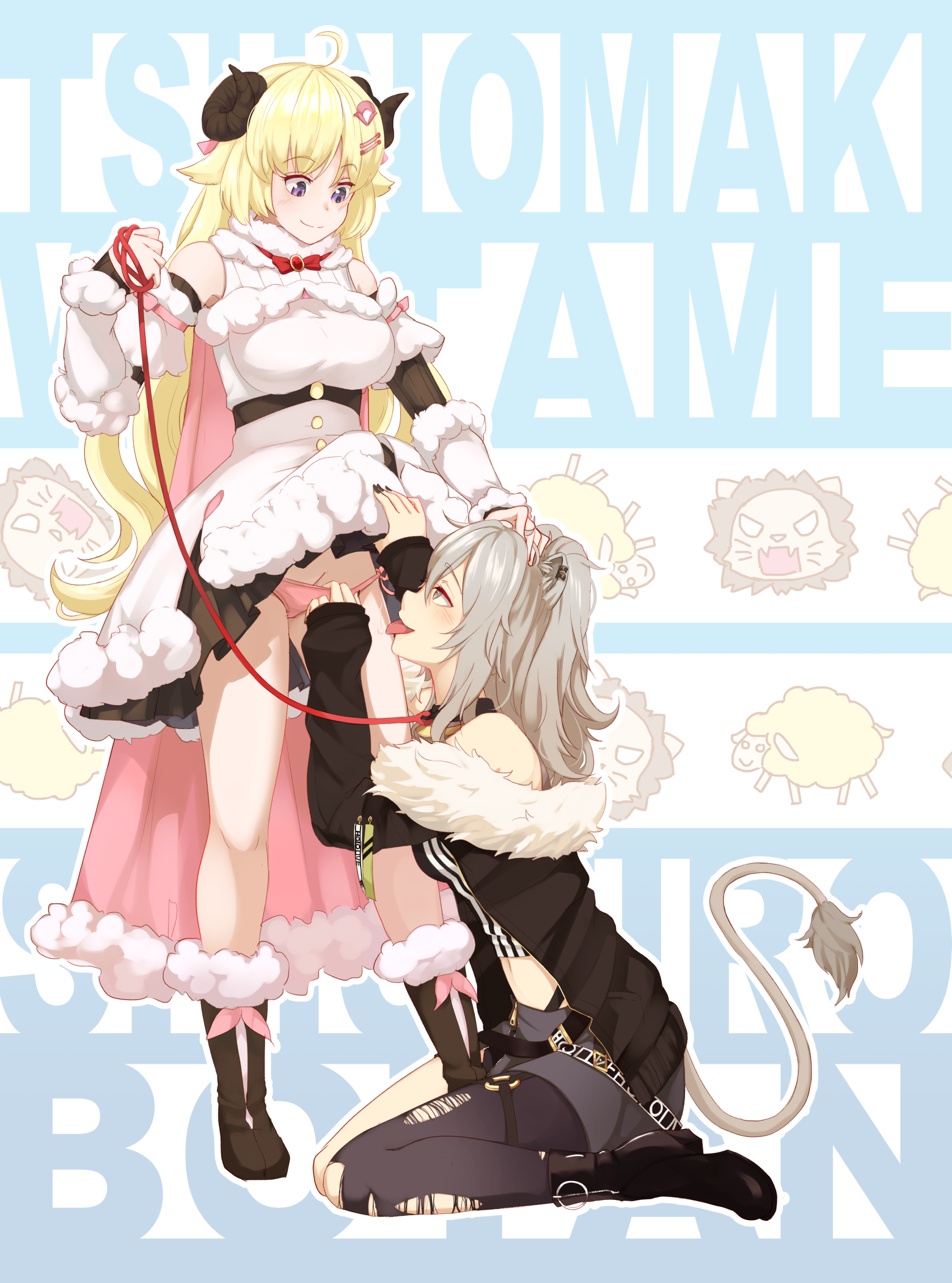 Givemeanaccount Sep 21, 2020 9:44PM
Taming an apex predator
nio_neka Sep 21, 2020 10:27PM
that's a good kitty cat

Random_Bird Sep 22, 2020 2:12AM
They say that in heaven the lion will lay down with the lamb
Sabruness Sep 22, 2020 3:40AM
A top Sheep-girl and a bottom lion-girl? You have me intrigued
last edited at Sep 22, 2020 3:40AM

almond Sep 22, 2020 6:15AM
i feel like a sheep lady should have more fluff down there
mapikopiko Sep 22, 2020 6:24AM
"where are you taking me?"
"it's a secret"
edit: Good lord. I just realized where Watame's foot is
last edited at Sep 25, 2020 7:42PM

DY4Y Sep 22, 2020 8:04AM
I mean, Botan just wants to eat the sheep and she's getting her wish
Rye Sep 22, 2020 10:05AM
It IS Watame's fault for being so damn soft and tasty AND essentially immortal. Botan and the other carnivores have free food for days.

Random Wanderer Sep 22, 2020 10:16AM
Lion eats sheep. Natural order of things.
YuuKiDB Sep 22, 2020 12:41PM
Botan is going to eat Watame in a different way
( ͡° ͜ʖ ͡°)

Yuri Yuriyuri Sep 22, 2020 3:03PM
Watame respawns in 8 seconds after all.

Bluejayc Sep 22, 2020 4:28PM
LMFAO these comments
last edited at Sep 22, 2020 4:28PM

Evil4corn Sep 23, 2020 9:41AM
The sheep has tamed the lion. Watame did nothing wrong.
HopeFromYuri Sep 23, 2020 2:56PM
Not to be horny on main but uhmm. Yesss
Jacopp Sep 25, 2020 12:35AM
Botan is gonna eat watame, in a different way now