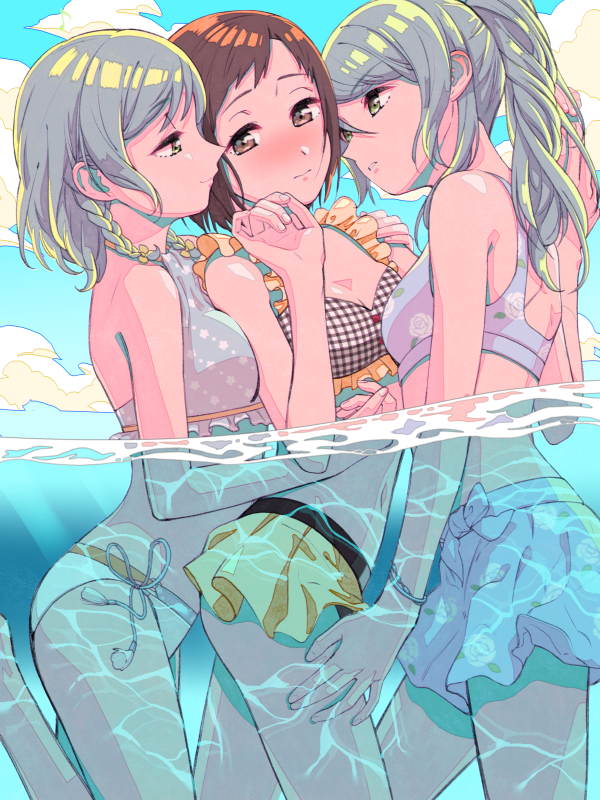 TctyaDDK Aug 7, 2020 9:39PM
So this should be called Tsugu sandwich or shimaidon?
Givemeanaccount Aug 7, 2020 9:41PM
The Mint Sandwich

Clueless1 Aug 7, 2020 10:13PM
First Place!

You cant hear image they say Aug 7, 2020 10:32PM
Chocolate mint ice cream with choco chips is refreshing for summer but this is the human + lesbian version of it.

Lightsteam Aug 7, 2020 10:50PM
I love that little smile. Tsugumi is quite happy with what's going on.

Guardian of the Lilies Aug 7, 2020 11:30PM
Alright, give me more of that double mint chocolate chip

Zeltrech55 Aug 8, 2020 1:06AM
Someone save Tsugumi before she gets devoured by the Hikawa sisters! Afterglow! Help your fellow member!
The rest of Afterglow in various stages of uselessness, Himari's fainted from a nosebleed, Tomoe believes that it's alright, Ran's trying her best to resemble a tomato and Moca's gone off to search for bread

Zen-Pai Aug 8, 2020 1:39AM
Ahhh nice work
UrsaTempest Aug 8, 2020 2:15AM
Well-liked by Hikawas.
luinthoron Aug 8, 2020 5:36AM
This is fine too.