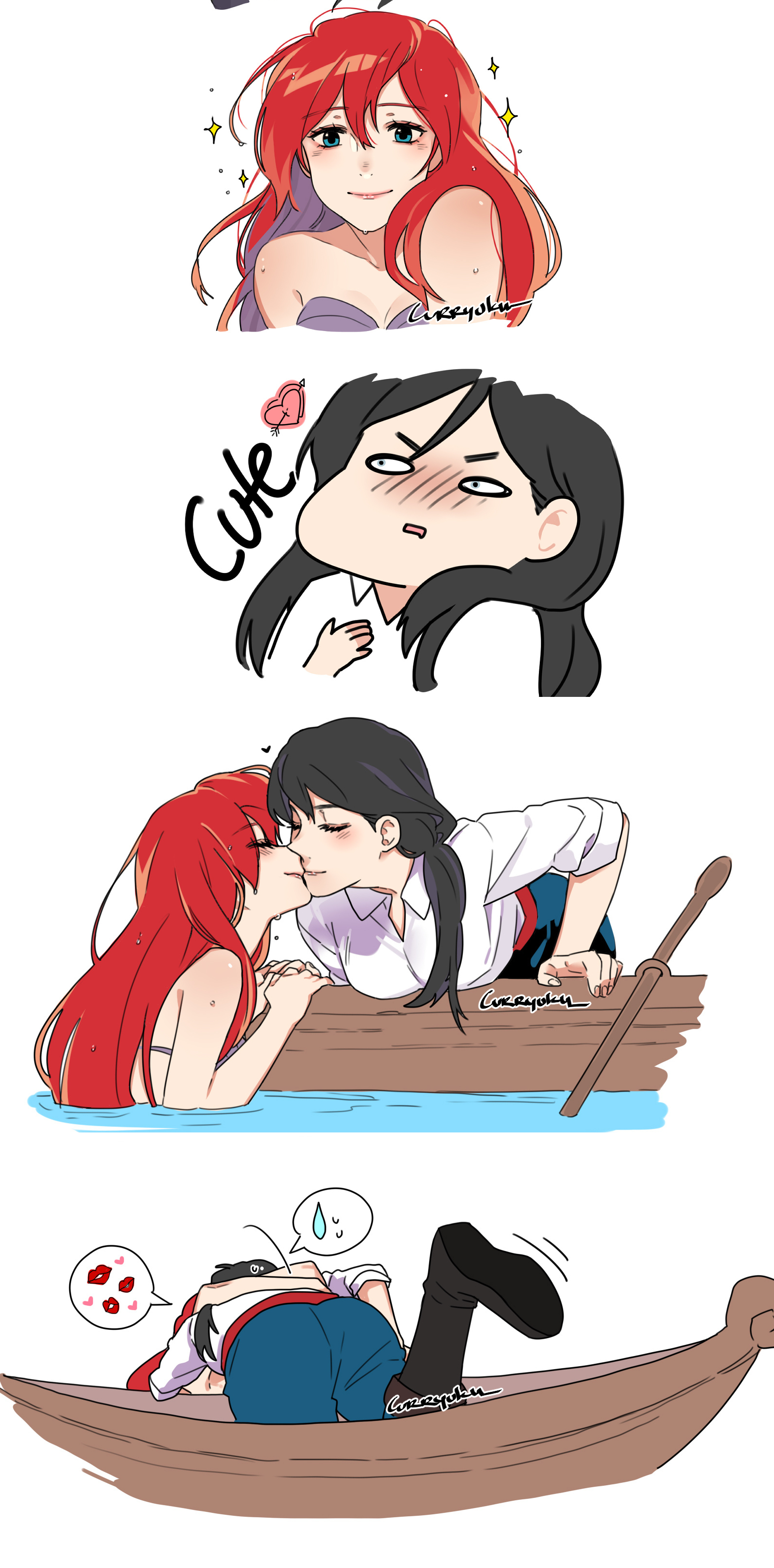 Givemeanaccount Jul 10, 2020 9:53PM
So cute, she caused the art style to change for a moment
Norainhere Jul 10, 2020 11:14PM
Lesbians really do make everything better.
Speaking of The Little Mermaid, apparently the author Hans Christrian Andersen was bisexual, and part of his reason for writing The Little Mermaid was over a man he loved getting married. So having a gay adaptation of the story does check out.

Guardian of the Lilies Jul 11, 2020 12:35AM
Neat

Mimiyaah Jul 11, 2020 12:52AM
Yes yes yes
Amersion_ Jul 11, 2020 1:00AM
Ariel and...Erica?
Tiatitan Jul 11, 2020 1:25AM
I want this movie...

uwupeachy Jul 11, 2020 2:35AM
I would wait a whole 2 years and more for this version...It would be so much more interesting

AnimeSavesMe Jul 11, 2020 3:35AM
Sebastian singing in the background intensifies

kickap00 Jul 11, 2020 3:56AM
You want to kiss the girl
Sha la la la la la
last edited at Jul 11, 2020 3:58AM

Dietskittles Jul 11, 2020 4:42AM
Already better than the original.
X.L Jul 11, 2020 5:04AM
AAAA ITS CURRYUKU <333 love the yuri in here

CrimsonTrout Jul 11, 2020 5:46AM
Beauty and the Beast next!

Zeltrech55 Jul 11, 2020 10:04AM
Fairytale Yuri!

juanelric Jul 11, 2020 12:54PM
Cute
Lewdholder Jul 11, 2020 1:28PM
@Norainhere I read the article and daaaaaaaaamn that man's love life is tragic and sad. I wonder if I'll suffer the same fate as him because I can see myself going down that road
Megumiaki Jul 11, 2020 3:38PM
Shalalalalala

Random Reader Jul 16, 2020 1:14PM
It looks like there was more to this piece. If you look at the top it seems some hair was cut off.