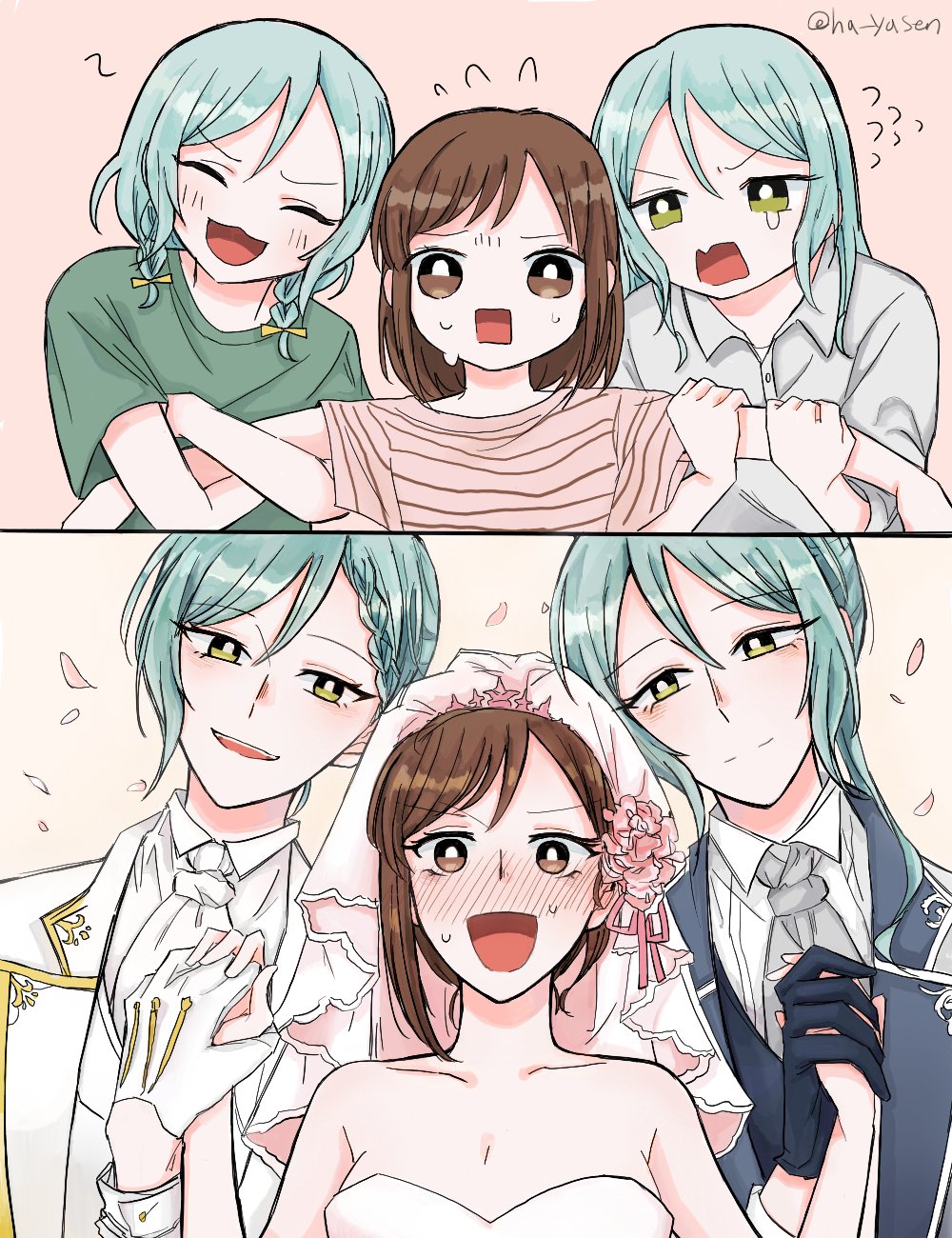 Givemeanaccount Jul 6, 2020 9:30PM
She went from "I don't how to feel about this" to "I love this!"
Lilliwyt Jul 6, 2020 9:35PM
When you goes to having 2 flowers on each arms to 2 Princes.

Arendellecitizen Jul 6, 2020 9:41PM
Wife and wife and wife hehe

The immaculate Jul 6, 2020 11:11PM
They both look so handsome. I usually ship sayo more but hot damn look at hina.

Tear Jul 7, 2020 12:19AM
Tsugu's brain is melting from the sheer force of their handsomeness.

Mimiyaah Jul 7, 2020 10:22AM
Damn she really is in heaven xD

Aikyuu-Chan Jul 7, 2020 11:29AM
Do you feel Tsugurific yet, Tsugumi?

xxSatsumaChan420xx Jul 7, 2020 8:32PM
YES

Gaywatermelon Jul 7, 2020 9:36PM
Hina be looking 0////0

Azero25 Jul 8, 2020 3:16AM
Gay panic lol would happen to anyone in that situation
M9-024 Jul 9, 2020 2:44AM
SAYOHINATSUGUUUUUUUUUUUUUUUUUUUU

Firefly Fanatic Jul 10, 2020 10:45AM
This..... How am I supposed to ship anything else but this now?!

Novanity Jul 14, 2020 7:15PM
Finally some good fucking food

Majin Yamamoto Jul 29, 2020 11:34PM
Choco double mint :3

Pandawa 5 Jun 20, 2021 6:27AM
Wait what, how

YuzukiLovesYuri Apr 11, 2022 1:33AM
HINA HOT OMG MARRY ME- oh wait, she's already married.
Perlen297 Apr 11, 2022 7:48AM
YES YES YES