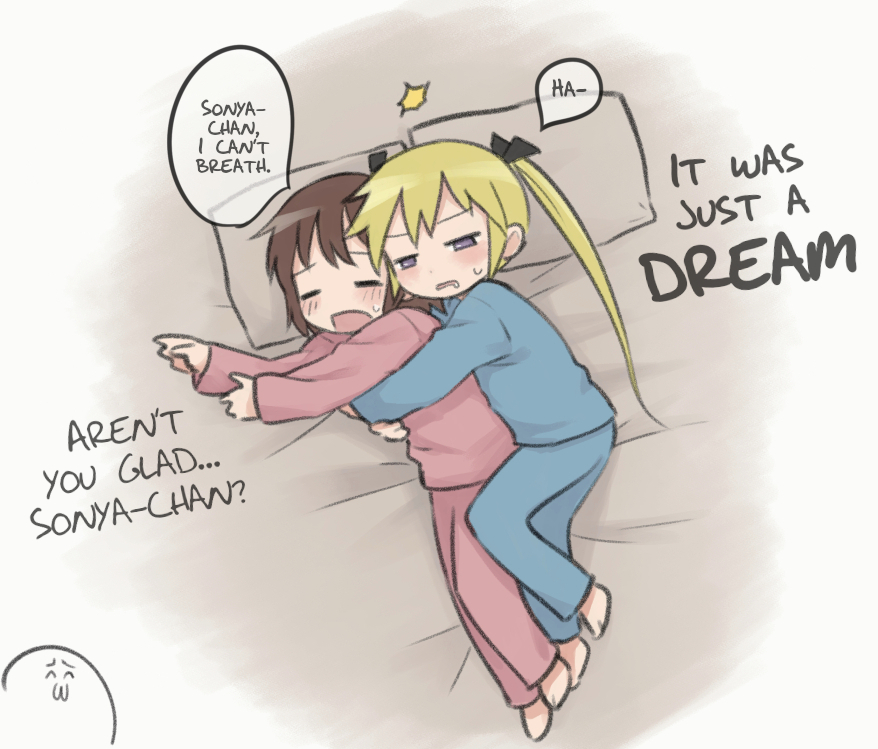 Lilliwyt Jun 1, 2020 9:43PM
Love me Baby
Givemeanaccount Jun 1, 2020 10:21PM
Cuddle Me Baby

Epsilon04 Jun 1, 2020 10:34PM
Blessed. Love how this author is one of the few making art of these two, they deserve more attention.

Tenebrae Jun 2, 2020 1:13AM
Omfg Kill Me Baby. The show that basically really got me into anime.
Swag Wagon Jun 2, 2020 5:00AM
@Minran Current events. I'll leave it at that.

KireusG Jun 2, 2020 9:10AM
LOL

itwasmeDIO Jun 2, 2020 9:13AM
haha

Mimiyaah Jun 2, 2020 2:06PM
It was just a bad dream girl UwU

Nezchan Jun 2, 2020 9:13PM
This has gotten ridiculous and y'all can move it to some other site now, kthx.
I shall clean up the off-topic nonsense forthwith.

riverFlower Jun 2, 2020 10:20PM
Thanks Nezchan.

sorathecrow Jun 3, 2020 10:19PM
Better to be hugged. I used to throw punches when I was little.

Gaywatermelon Jun 4, 2020 1:58AM
I still hear that catchy-ass intro
KitTheKid Jun 4, 2020 3:51PM
Yo imagine your assassin girlfriend choke holding you in the middle of the night cuz of a bad dream.
Polycell Jun 4, 2020 9:34PM
Yasuna's lucky she has infinite lives.