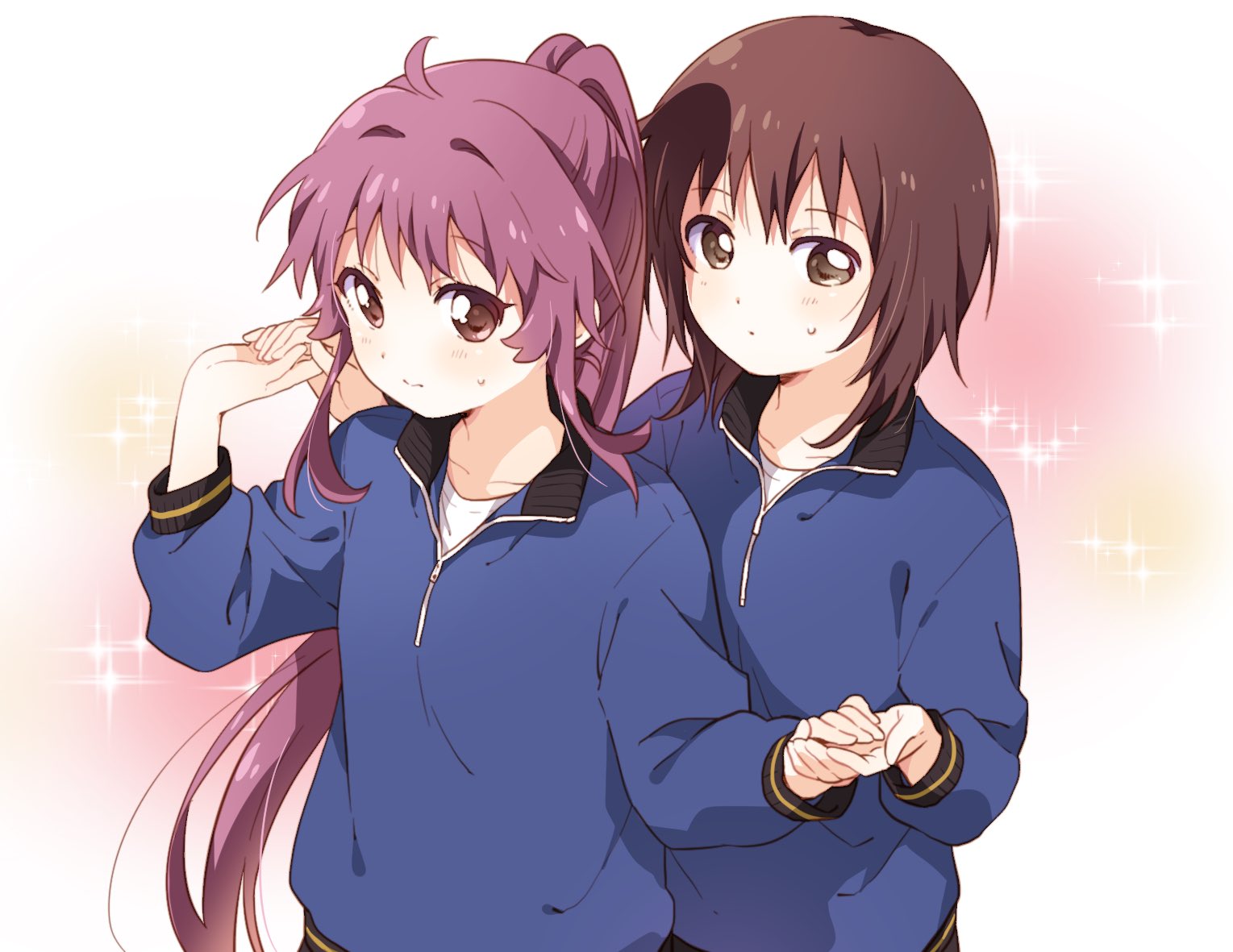 Norainhere May 18, 2020 10:01PM
Ah yes, the one true Official Yuru Yuri ship.
Lilliwyt May 18, 2020 10:13PM
Ahah, glad the request come through. Even Namori crackship her own characters.

GrimEater May 18, 2020 10:23PM
It's a crime

Throbelisk May 19, 2020 1:30AM
Please insert obligatory Oblivion imperial guard speech here.

Needagirl May 19, 2020 1:33AM
Insert No Jotaro

Zen-Pai May 19, 2020 3:48AM
No

Chicchu May 19, 2020 6:59AM
What the fuck is this
Perlen297 May 19, 2020 7:29AM
Namori-sensei will draw whatever ship she can think of and that's great.
Raik May 19, 2020 9:17AM
At first I was like... NOOOO~~
But then I was like... yeah... yeah, this might be good...
I blame the fact I kind of see no real interest coming from Yui when she's with Kyoko, well, most of the time.

mg1342mg May 19, 2020 9:46AM
Blasphemy.
xaelath May 19, 2020 10:17AM
heresy

Namyks May 19, 2020 10:27AM
All of you are cowards, this shits the cutest ship for both of these characters.
No, I don't take criticism,
Lilliwyt May 19, 2020 10:28AM
Is it heresy if it's from the author of the manga herself ?

katewarner May 19, 2020 10:41AM
They don't have a romantic relationship, but they have a real relationship.
Actually, I think that they and Kyouko would make a really nice menage a trois.
last edited at May 19, 2020 11:04AM

Canonball May 19, 2020 1:59PM
Ayano can make Yui laugh like no one else, so let them be!

OrangePekoe May 19, 2020 4:42PM
Bless.
Senjougahara_sama May 19, 2020 5:37PM
Namori is willing to ship anyone, huh?
Ayano is the cutest so I'm also willing to ship her with everyone.
last edited at May 19, 2020 5:38PM

katewarner May 19, 2020 9:51PM
I'll forgive any crackship on the condition that, somehow, I will someday be able to read Yuru Yuri again. What's painful is I know the series is going on, somewhere.
Yeah, yeah, I know a chapter comes out in English a couple of times a year, but damn, I miss that series.
last edited at May 19, 2020 9:55PM

KitsuYuri May 20, 2020 1:33AM
As much as I love ayano x kyouko, this- this is in a whole lot another level. WhIcH I hIgHlY aPpRovE.
last edited at May 20, 2020 1:41AM

uncertain May 20, 2020 11:48AM
my favorite

lucario14 May 21, 2020 6:15AM
Why draw main ships when you can confuse your fans and draw more interesting ones.

Kuma The Bear May 21, 2020 5:55PM
Namori rules
Nithet May 22, 2020 9:09PM
my guilty pleasure :9

alphanatiken May 25, 2020 10:50AM
and thus sayeth God
sofieru Jul 10, 2020 5:06PM
brb gotta poke my eyes out

wisteriagirl Aug 16, 2020 8:37AM
i still ship kyouko x ayano but this ship? this ship just hits different

ReinaSonoda Aug 22, 2020 2:05PM
I ship them. They're kawaii, like in a whole NEW LEVEL of kawaii.

PeoYS2122 Aug 31, 2020 12:00AM
Finally (//∇//)\

QuynhTrang2007 Nov 6, 2020 7:34PM
yo what the matter with u guys? i ship them and this ship is extreamly cute, in my opinion. Pls be polite and don't insult other's ship
Marion Diabolito Nov 13, 2020 8:07PM
Unlike the one with Akari, this one has a bit of canon support. During the dating arc. And Yui always
laughs at Ayano;s bizarre alliterations and assonances.
last edited at Nov 13, 2020 8:08PM

cuteyurisaga Jun 4, 2021 11:40PM
Namori is hilarious she always crackships

SaltyDaddy Aug 12, 2022 3:07AM
Love this, imagine they get married and live together, Yui might be death by laughing too much from Ayano's failed puns every day lol.