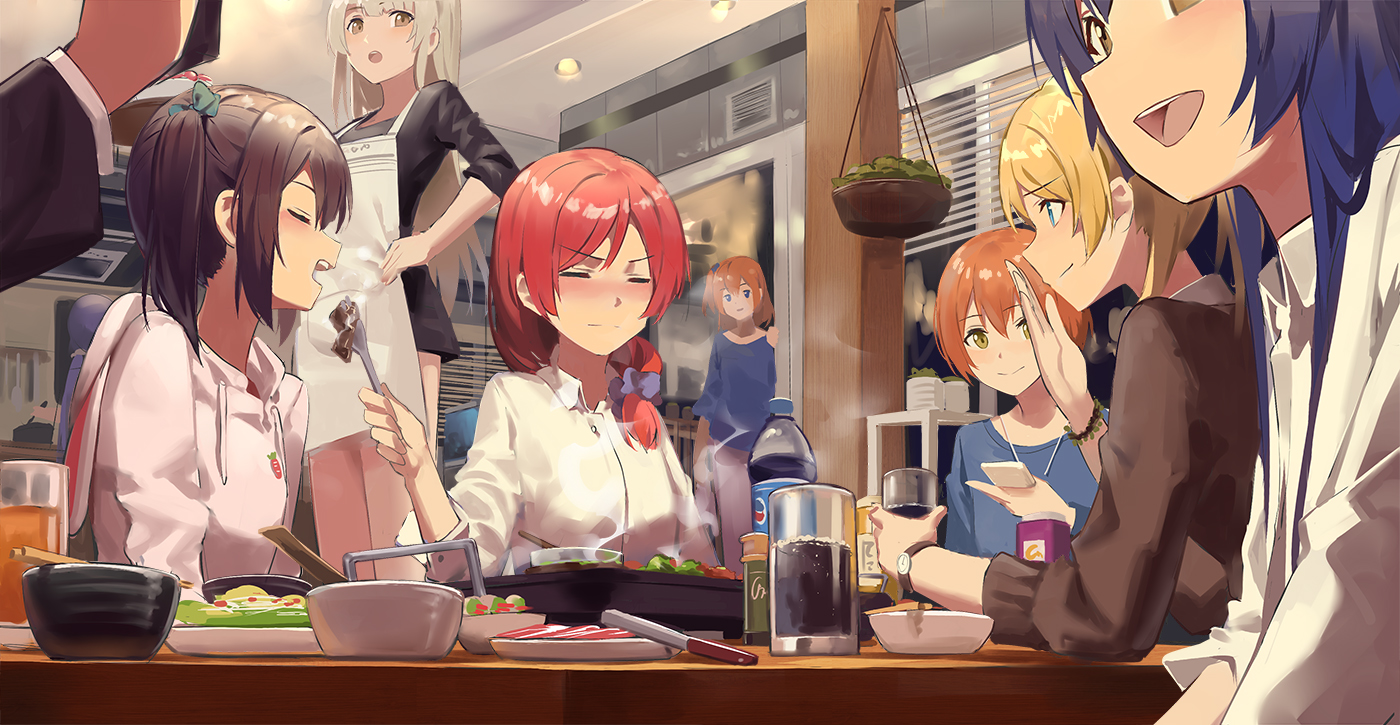 Lilliwyt Apr 27, 2020 9:06PM
That's a quite bold dress you have there Kotori.

Shadowofdimentio Apr 27, 2020 10:10PM
I love Nico's shit eating grin because she does seem like the type to show off in public while Maki wants to keep the relationship as behind doors as possible. We need more NicoMaki around the others
Swag Wagon Apr 27, 2020 11:12PM
Shrodingers Pantsu has evolved! It's Schrodingers Whole Ass Slacks now.

SulliMike23 Apr 27, 2020 11:25PM
Looks like they're all older.

Zen-Pai Apr 28, 2020 2:34AM
GOLD
Perlen297 Apr 28, 2020 3:04AM
Not sure if Honoka is looking at the food or Kotori (who also look like a snack)

MunHandou Apr 28, 2020 5:19AM
Did anyone notice nozomi in the back cooking?i almost didn't notice her

Lil-Dumpster-Rat Apr 28, 2020 8:45AM
Honoka looks like she 'bout to tap dat KotoAss
Polycell Apr 28, 2020 10:23AM
Is Hanayo taking a picture?
Amersion_ May 1, 2020 2:40PM
This looks like they're all in college and tbh it makes me cry

SushiKnight May 2, 2020 3:01PM
This is so lovely. I adore it. Just getting the whole gang back together to have a good time. Catch up with everyone. Show off their girlfriends.
yzm02 May 5, 2020 4:50PM
Well, I mean if you have Maki, Eli or Umi as a girlfriend, you kinda have the right to show off.

SP May 16, 2020 1:33PM
@Polycell I think hanayos showing Umi something on her phone, probs on r/dankmemes again

TheYuriTomboy Jun 9, 2020 12:05AM
@ymz02 every μ's member has the innate ability to be shown off
Marion Diabolito Aug 10, 2020 10:31AM
Where is Honoka Looking?
1. Longingly at Maki?
2. At the NicoMaki scene?
3. Kotori's asset?