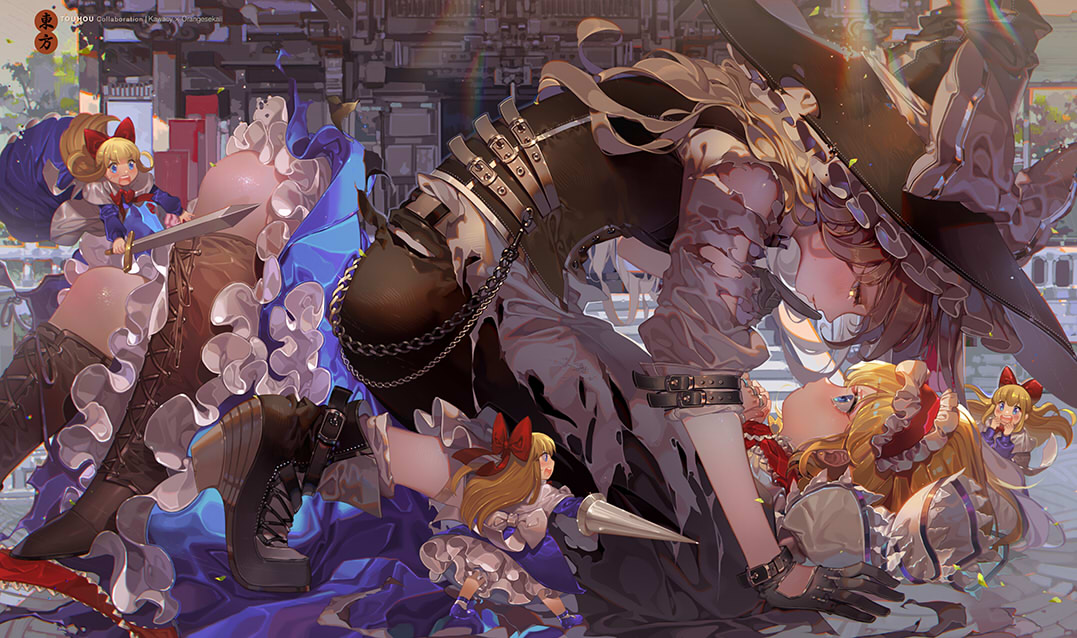 elevown Jan 24, 2020 10:45PM
Very nice art.
Never seen Marisa in leather gear before, but it works.
last edited at Jan 24, 2020 10:45PM

OrangePekoe Jan 24, 2020 11:54PM
Such attention to detail on those frills. Such pretty clothes. What a treat!
Norainhere Jan 24, 2020 11:58PM
Kawacy's art is great as always.
By the way, the commentary for this mentions that this was a collaboration with Orange Sekaii, so could you add their tag here as well?
taetaetr Jan 25, 2020 1:40AM
Alice looks so cute and fluffly. Nice detail art too.

Random Wanderer Jan 25, 2020 5:36PM
Marisa's really upped her belt game.
elevown Jan 25, 2020 8:29PM
I wonder where it is? I can't really make out enough of the background but I'm fairly sure its not the shrine.
p.s I love how Marisa is shushing Alice- presumably so she can kiss her :)

ShadowEdge Jan 26, 2020 2:13AM
Those are their Koumajou Densetsu attires.
They are probably on the Scarlet Devil Castle.

blopa Jan 26, 2020 2:15PM
Touhouvania character designs is a true blessing.

starsaber123 Jan 28, 2020 5:08PM
That Shanghai doll by Alice's head is super excited about this situation!

B-to480 Jan 31, 2020 4:51PM
Fascinating and adorable! great art!

Mimiyaah Jan 31, 2020 11:30PM
That's nice