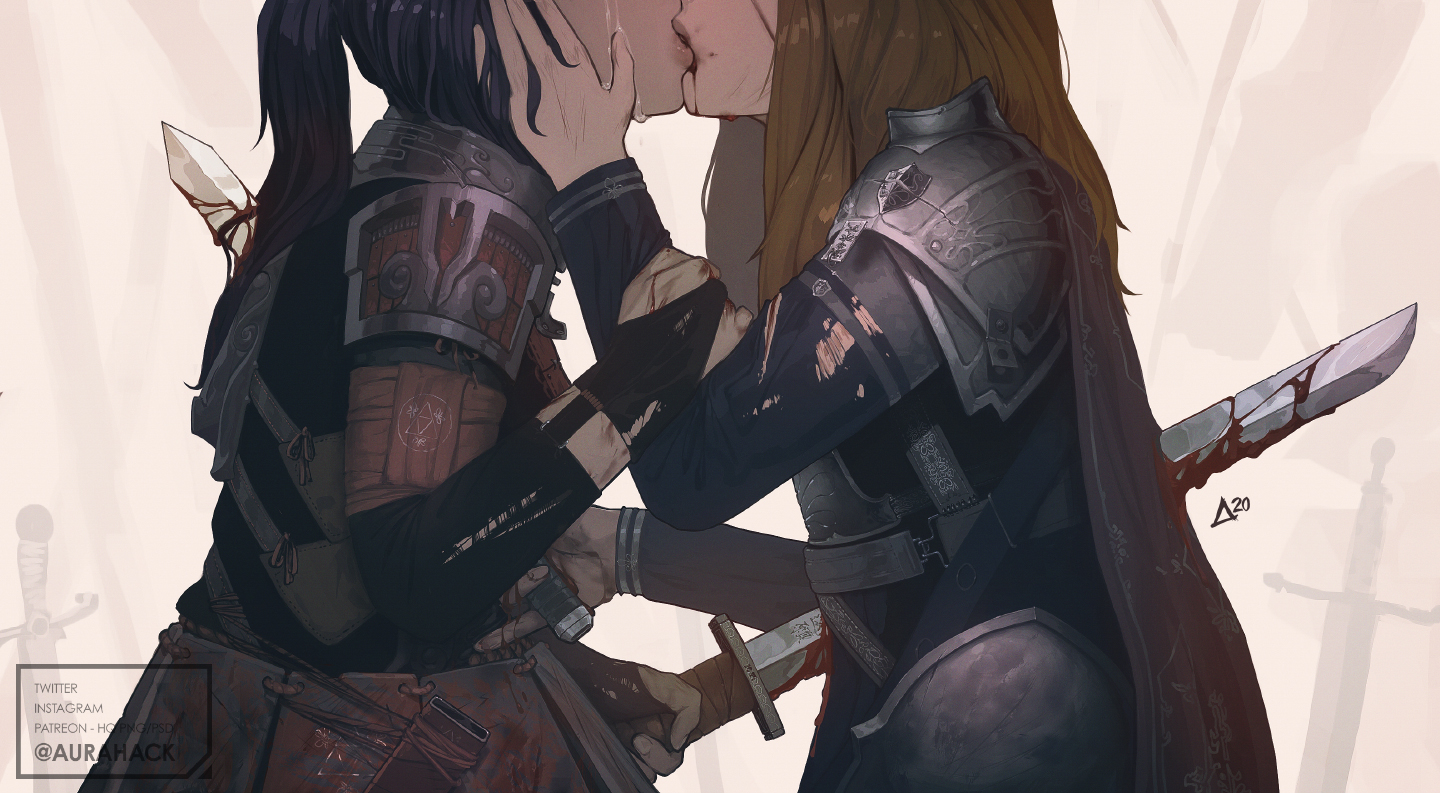 Lilliwyt Jan 20, 2020 9:24PM
They said love can bloom on the battlefield.
GrimEater Jan 20, 2020 9:29PM
Till death do them both
TifalovesAerith Jan 20, 2020 11:06PM
Tomato Sauce don't @ me

araaradesu Jan 20, 2020 11:30PM
they could like use a hello kitty band aid

Chungus Jan 20, 2020 11:46PM
how revenge of the sith should have ended

Linterdiction Jan 21, 2020 12:22AM
It's fine it's all fine this is just Dark Souls and they're gonna get back up and go invade a casul to get back their humanity. No tragedy here fellas.
not yet

Wlfking Jan 21, 2020 1:07AM
Is sad now :c
SuperText Jan 21, 2020 4:32AM
Or it could be a way for Arisen and Main Pawn to break the cycle in Dragon's Dogma. Still tragic perhaps, but with extra defiance.
Mauser Jan 21, 2020 7:08AM
You know, if you wanted to experiment new kinks by tasting blood, there were less lethal ways.

Grail Jan 21, 2020 8:19AM
I never thought I would be seeing this theme of "romantic stabbing" again

Beefaroni Jan 21, 2020 8:26AM
This is the Jumanji world and they have two lives left. There, that'll make me feel better
katewarner Jan 22, 2020 9:41AM
"Let's stick together."

Rock-on8892 Jan 22, 2020 1:18PM
blades member vs legion member (skyrim players know)

Rock-on8892 Jan 23, 2020 10:38AM
wait Triforce?
Goliath Jan 23, 2020 6:02PM
really nice shading, but proportions are kind of off. I'm betting that the heads are too big.
Also, if you applied enough pressure to pierce through armour your hand either would be in the gut because of impulse, or, if it was slow motion, awkwardly angled because given how high the tip of the sword red probably aimed from low point; she could have readjusted the grip but this would mean that at some point she just left sword in the blue lady, which is not very nice.
Pierced cape suggest swift motion, which means that she pulled out the hand out of her stomach, dragging sword with it. Yikes.

Mimiyaah Feb 1, 2020 12:20AM
Well damn till death do us apart indeed..

TickerTocker May 5, 2020 8:35PM
Brutal