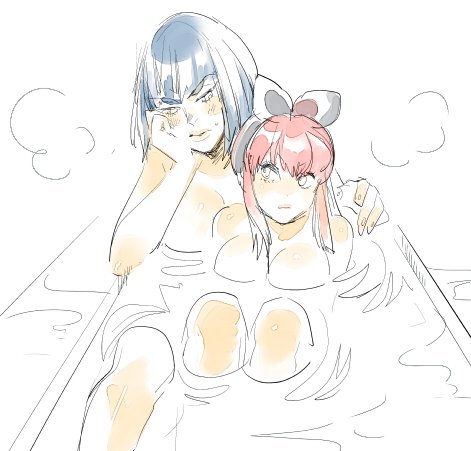 GrimEater Nov 30, 2019 1:08AM
Small tub

minagi mikoto Nov 30, 2019 1:13AM
Umm, are they in the middle of love quarrel or something?

Mimiyaah Nov 30, 2019 1:28AM
Waiting for her to kiss and make up( ͡° ͜ʖ ͡°)

Krayos13 Nov 30, 2019 2:37AM
Nice image but we all know Nonon doesn't have those melons.

BugDevil Nov 30, 2019 5:02AM
Satsuki: "I wish this was my blood related sister instead according to my fans."
Nonon: "That's f*@$% dumb. Just like my sudden case of melons."

pineapple juice Jan 22, 2020 10:13AM
I didn't even notice the melons until I read the comments.
Also I love that everyone is calling them melons.