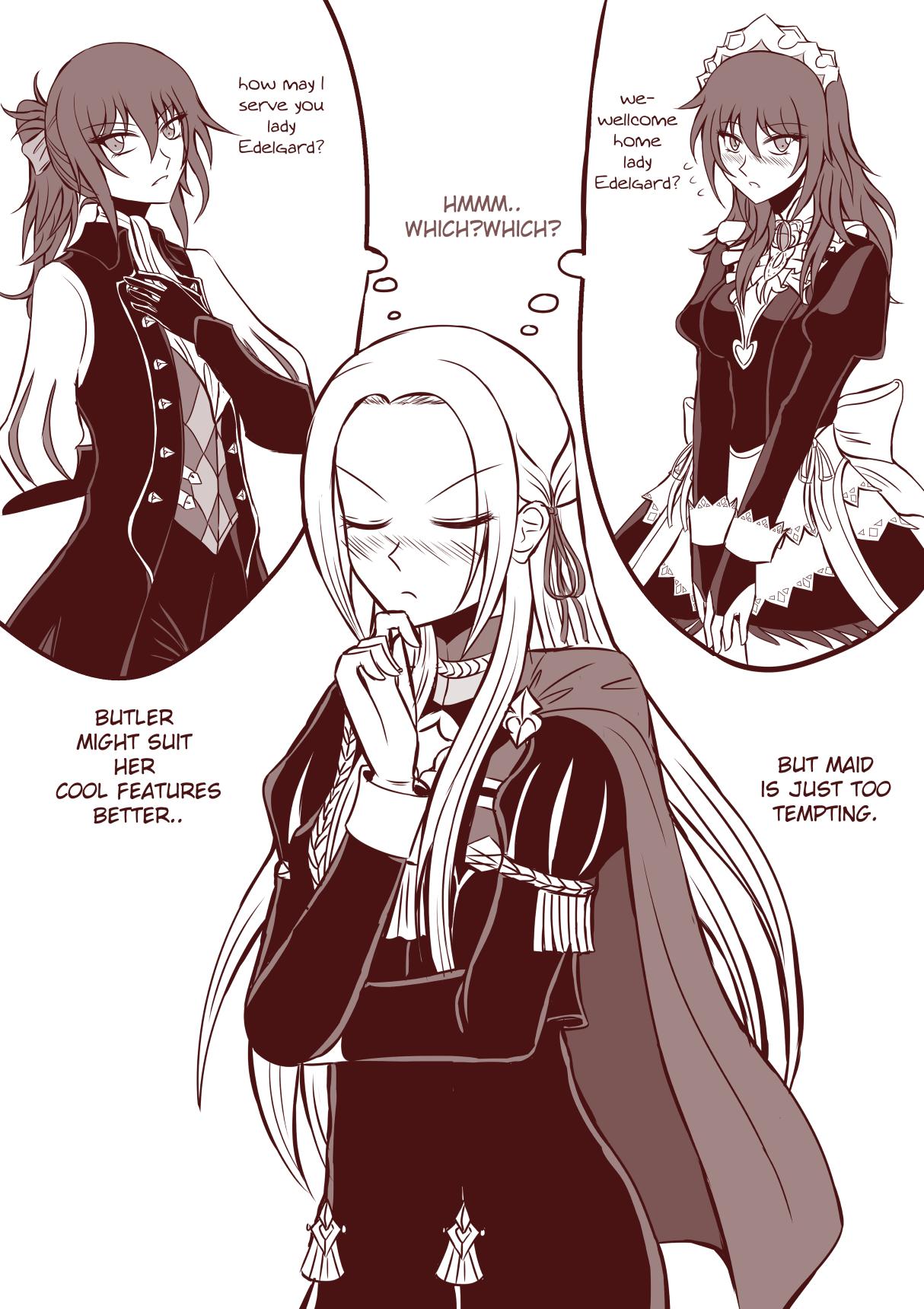 blopa Nov 8, 2019 8:48PM
Show Byleth the maid outfit. If she doesn't blush, then butler.

Azero25 Nov 8, 2019 9:14PM
New DLC = Everyone in Maid outfits
Norainhere Nov 8, 2019 9:29PM
I am a bit disappointed that you can't have the girls wear the butler outfits (or the guys wear maid outfits).
Also, in case anyone was wondering, this picture was made before the DLC came out, which is why the maid/butler outfits here look a bit different compared to the in-game versions.
last edited at Nov 9, 2019 2:30AM

Bugpope Nov 8, 2019 9:45PM
Whynotboth.jpg

megablackste Nov 8, 2019 9:46PM
The outfits look to be the ones from Fates.
Swag Wagon Nov 8, 2019 11:20PM
Maid Byleth looks kind of like Lucina

bitfarb Nov 9, 2019 12:55AM
Butler top + maid skirt + Byleth Brand Legwear

BugDevil Nov 9, 2019 3:38AM
Edel makes the odd assumption that Byleth will be wearing anything when she comes home.
Mauser Nov 9, 2019 4:26AM
These are clearly the most important decisions in the life of Edelgard.

xxSatsumaChan420xx Nov 9, 2019 5:05AM
All of the above

Bugpope Nov 10, 2019 3:54PM
And it makes so much sense that Edelgard would have a master/servant kink.