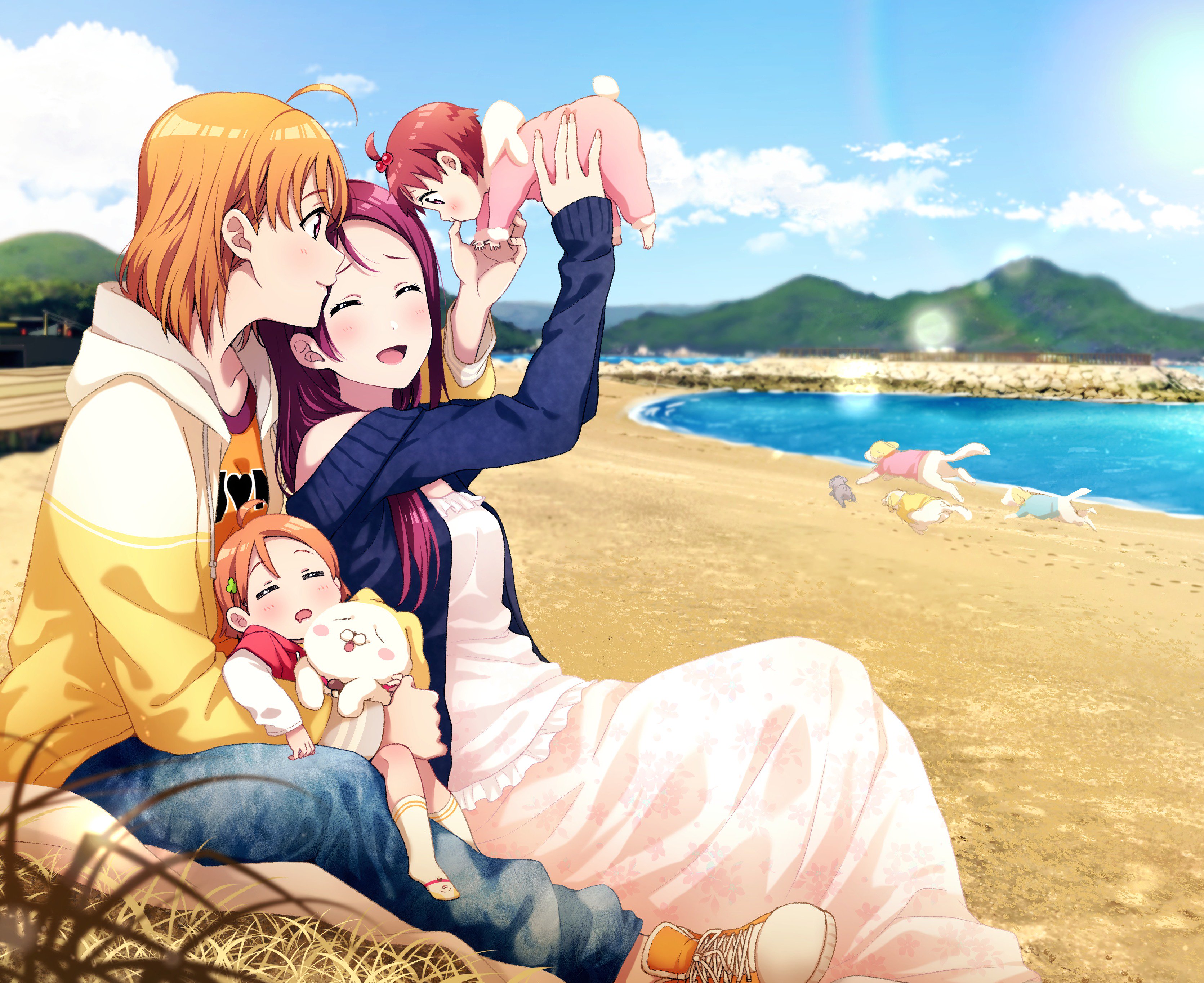 LII02 May 31, 2019 10:06PM
Awww
Salinthrous Jun 1, 2019 12:47AM
Two Mamas with their kids and a family of doggies. What more could you ask for?

Clueless1 Jun 1, 2019 12:58AM
Third place.

AkinomaHNU Jun 1, 2019 1:26AM
I see cute puppies. Second generation kids growing up with third generation pups?

BugDevil Jun 1, 2019 2:00AM
That is the tiniest baby I have ever seen.
KurayamiNeko Jun 1, 2019 2:21AM
Meanwhile, in a basement somewhere, a figure in a giant plush suit sits in the darkness, continually grinding the metal in her hands against the whetstone.
"Don't worry. Chika-chan. Soon... very soon."
Sharpening her tool of love to satisfaction, the brunette picks up Uchicchi's head, putting it on.
"We'll soon be together... Together... Forever..."
Zensoku zenshin! Yousoro! She whispers her trademark cheer as she walks towards the exit.
P.S. I mean nothing by this, this pic is cute and I love ChikaRiko as much as I love ChikaYou and most other ships.
P.S.S. But I had to.
P.S.S.S YandereYou Best You ~

thisisawesome Jun 1, 2019 3:09AM
more pls.
TifalovesAerith Jun 1, 2019 10:04AM
Official

shadesan Jun 1, 2019 10:03PM
Aah, Rika and the new baby, too cute!

Cekai Jun 2, 2019 9:28AM
Kougi draws really small children but it's so freaking wholesome it doesn't even bother me anymore.

juanelric Jun 2, 2019 9:56AM
I never noticed how small they are. I still didn't tbh.

Rainendant Jun 3, 2019 5:41AM
hm,,, they really made it a big family including the goddamn dog

rincewind Jun 3, 2019 10:05AM
Love this!! Yuri families are the best!!
elevown Jun 3, 2019 2:47PM
Are even babies just a week or 2 old that small?
And who do we think gave birth? One each maybe going on the hair colours?
last edited at Jun 3, 2019 2:49PM
MantaBistal Jul 25, 2019 9:27AM
I like that family
YayaSamuko Jun 12, 2020 1:03PM
I wis I could take some vacation as well

Kaito Ace Sep 11, 2020 6:45AM
In this pic Chika more like a father and Riko as the mother~ Love it! If so what name suit them best I wonder~
last edited at Sep 11, 2020 6:46AM

niñakrish Nov 26, 2020 1:50AM
(▰˘◡˘▰) (=・ω・=)
Aww