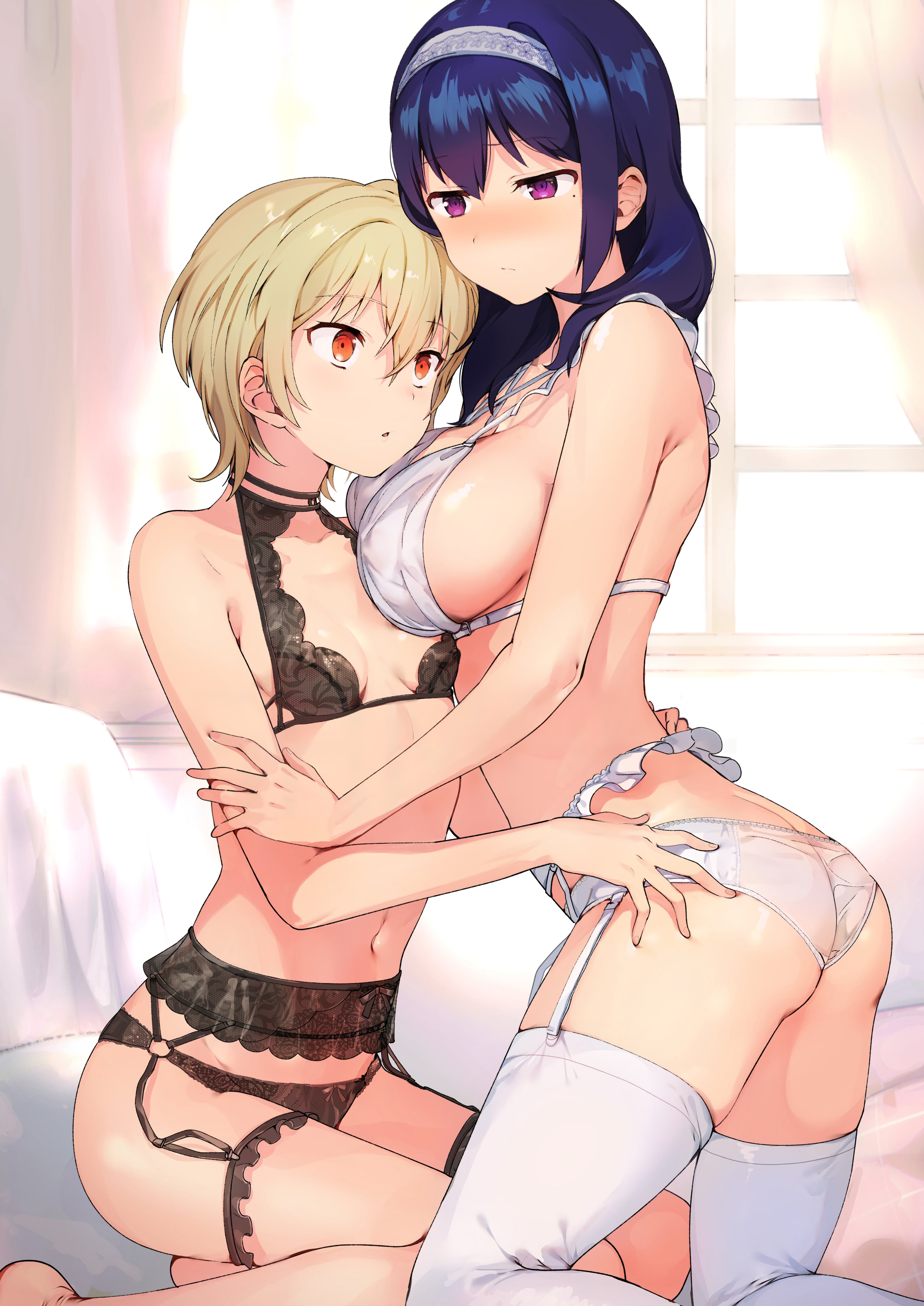 jonkka Apr 1, 2019 10:19PM
just get married already

random Apr 1, 2019 10:28PM
Why do I get this impression the author is quite enjoying themselves...?

LII02 Apr 1, 2019 11:26PM
They are too adorable for eachother.

Clueless1 Apr 1, 2019 11:41PM
First Place! Because of the lace!

BugDevil Apr 2, 2019 2:00AM
I feel a certain imbalance in this picture.
luinthoron Apr 2, 2019 6:18AM
I need this on my wall...

Shadowofdimentio Apr 2, 2019 9:24AM
Chiaki has that face where she just realised that this is no longer about groping breasts
luinthoron Apr 2, 2019 9:35AM
I keep wondering where Hana's other hand is, considering what we can actually see here and where there would logically be room for it. I'm assuming it's like this.
TifalovesAerith Apr 2, 2019 5:30PM
Well, what do you know? So Chiaki it's also into butts now? If you're not, I hate to break to you that your hand is slightly sliding into that booty

Random Wanderer Apr 2, 2019 8:27PM
Just have sex already you two!

bitfarb Apr 2, 2019 10:01PM
Ooooh beautiful lingerie <3
Ranzo Apr 2, 2019 11:33PM
Yeah, judging by the picture it seems like Chiaki is ready to graduate and appreciate the thing that is even more impressive than just the breast, which is the ass of course.
Floofy Shibe Apr 3, 2019 5:19PM
where's that hand going, ma'am
luinthoron Jun 13, 2019 5:57AM
Due to recent events I need to make a change to one of my earlier statements:
I need this on my wall...
I now have this hanging on my wall. ^_^
zeffy101 Jan 20, 2022 7:31AM
that is one meaty sexy waifu :3