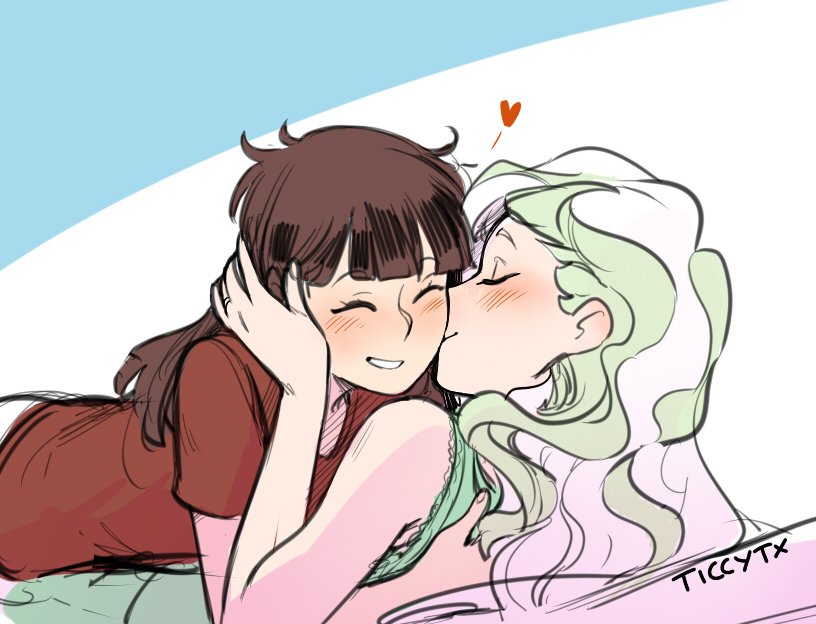 Nomnomstarfish Mar 29, 2019 11:23PM
So cute! Diakko will always be one of my favorite ships!

ThatAroAce Mar 29, 2019 11:31PM
ahhh, refreshing to see some classics

bitfarb Mar 29, 2019 11:35PM
Do I spy a ring on that finger? Thank you Ticcy!

katewarner Mar 29, 2019 11:44PM
It never ceases to be good.
elevown Mar 29, 2019 11:51PM
I miss the days of endless Diakko uploads- so thanks for this :)
Swag Wagon Mar 30, 2019 12:25AM
Based Ticcy continuing with the gay witch blessings. This time in vanilla flavor.

Throbelisk Mar 30, 2019 1:55AM
Pictures like this remind me that sometimes, for a little while, all is right with the world.

GrimEater Mar 30, 2019 3:09AM
Love magic

SulliMike23 Mar 30, 2019 8:01AM
Kissing her wife's cheek while they cuddle. Cute.
K15 Mar 30, 2019 9:53PM
ticcy never fails to make you even more gay with her drawings
lord-of-roses Mar 30, 2019 11:14PM
Cute little kisses are always so nice.

Hiramo Mar 31, 2019 12:55PM
Uhhh ... yes please