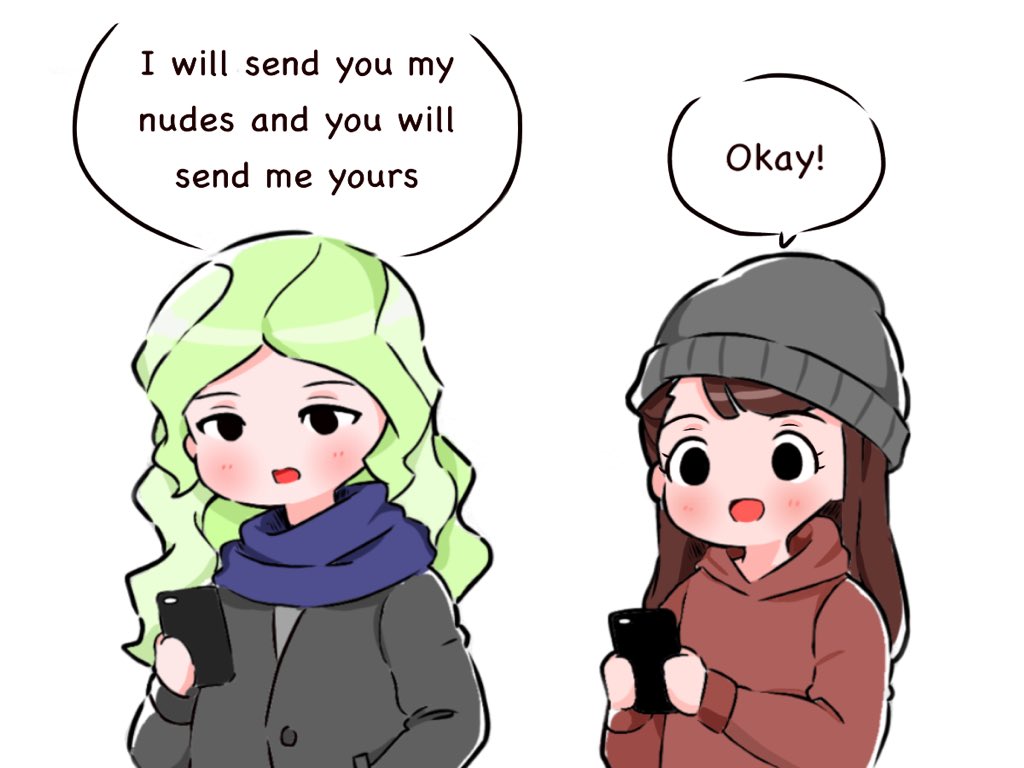 Despair974 Feb 20, 2019 10:02PM
Perfectly balanced as all things should be
gork5 Feb 20, 2019 10:07PM
speech 100

Yuki_mi46 Feb 20, 2019 10:12PM
I just love how they are 0 flustered about it, I would be dying of shame xD
HanyouNee Feb 20, 2019 10:22PM
Yuki_mi46 what is a nude pic for this two that already hold hands

Yuki_mi46 Feb 20, 2019 10:23PM
You have a very good point HanyouNee
Midnightgunner Feb 20, 2019 10:29PM
Wait! Wait! Where is the continuation of this? Why can't I find it?!
lord-of-roses Feb 20, 2019 10:48PM
(Ancient skeleton voice): The contract is sealed.

TheAlmightyUltimus Feb 20, 2019 11:17PM
I believe this is what they call 'Equivalent Exchange', is it not?

juanelric Feb 21, 2019 12:06AM
Perfect

GrimEater Feb 21, 2019 2:11AM
Sounds like a plan

BugDevil Feb 21, 2019 3:40AM
It might be far easier to take those nudes of each other directly. I'm just trying to be efficient here.

random Feb 21, 2019 3:55AM
The best kind of Fair Trade?

Sup Feb 21, 2019 6:26AM
priorities right?

YuriMonster Feb 21, 2019 8:19AM
BugDevil is right here, should rather take nudes of each others !

mg1342mg Feb 21, 2019 9:37AM
Quid pro quo.

Avaz Feb 21, 2019 2:07PM
If only it was this easy
PureShipper Feb 23, 2019 2:39AM
They'll each take the picture of the other person nude to send to themselves.

LoveHeart Feb 23, 2019 6:03PM
Better to just go in one of their rooms and show it directly , no need for pictures.

palakangorange Feb 26, 2019 12:57AM
( ͡° ͜ʖ ͡°)
last edited at Feb 26, 2019 12:58AM

YuzuYuri Feb 26, 2019 8:53PM
Diana is like asking what they were having for dinner

Missigno Sep 18, 2021 4:37AM
Heck yeah you do