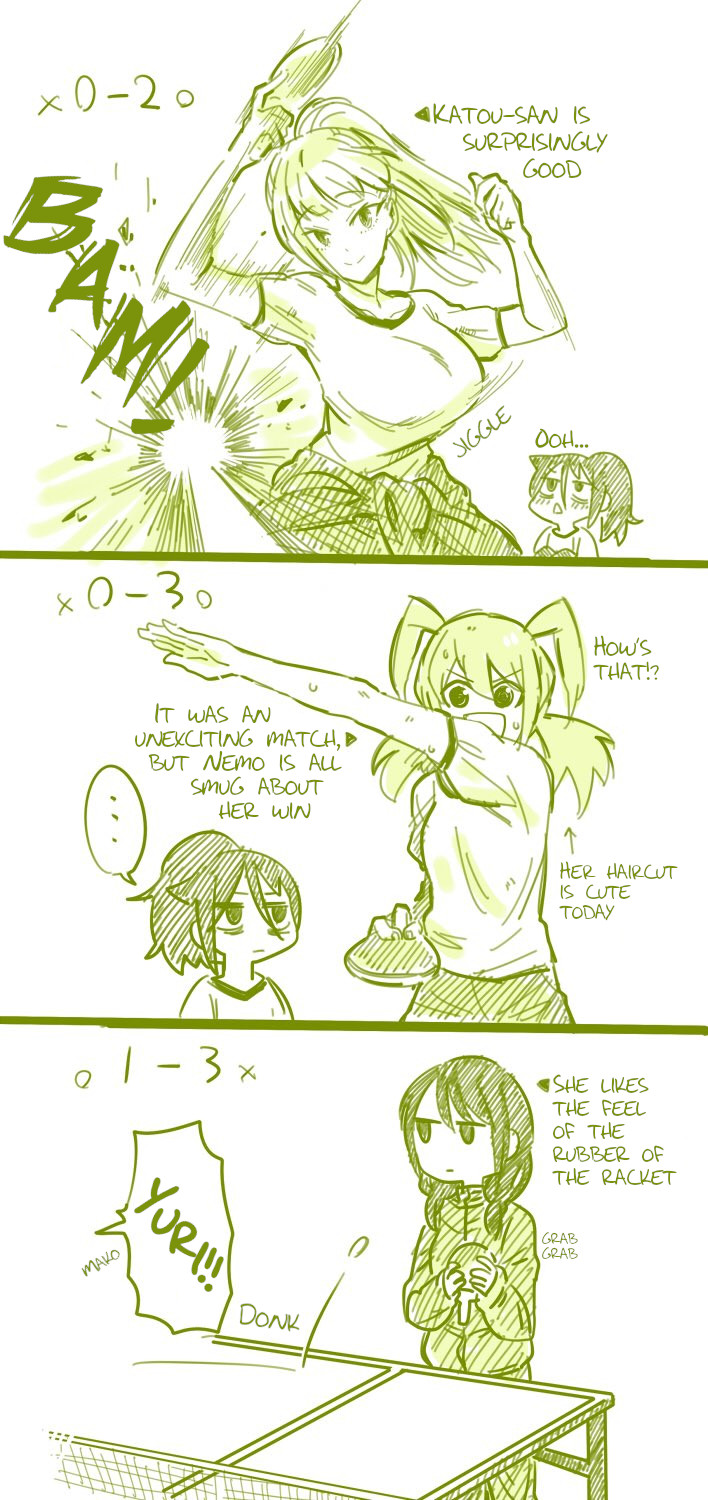 katewarner Jan 26, 2019 10:58PM
I'm with Yuri on this one.
Kisa Jan 26, 2019 11:00PM
Funny!

sorathecrow Jan 26, 2019 11:01PM
Did Asuka smash that ball with her paddle or the displaced air from those boobs swinging around?
Nemo is such a cute.
And they really captured Yuri's better qualities here.
risingstar3110 Jan 27, 2019 1:12AM
This really sum up Tomoko's harem.

Throbelisk Jan 27, 2019 3:22AM
J I G G L E indeed

BugDevil Jan 27, 2019 3:56AM
So yuri is into rubber surfaces.
Nemo is the best. You just have to pose when you win a match!

ParasyticGhoul Jan 27, 2019 5:22AM
Nemo a Nazi confirmed

Nene Jan 27, 2019 9:23AM
Katou-san has weapons of mass distraction.
She's invincible.
Nobody can focus on the little ball while facing those.


almighty Jan 27, 2019 1:54PM
tomo just looking at asuka's jiggling lmao

Avaz Jan 27, 2019 2:54PM
Whoa, careful there Nemo, Vox News is coming to you.

shadesan Jan 27, 2019 9:00PM
Each plays to their strengths
Symphogeah Jan 27, 2019 9:33PM
Some Kamen raider pose she's making...

Lehantol Jan 28, 2019 8:57AM
Nemo looks like Yotsuba here with that hairstyle.

TheAlmightyUltimus Jan 28, 2019 9:06AM
Is Nemo actually doing Kamen Rider Ichigo's pose or am I just seeing things?
Ri-n Jan 28, 2019 10:40PM
Im like Yuri when I play any sport.

stickizonline Jan 29, 2019 9:31AM
Yeah I'm pretty sure Nemo doing Ichigo's pose

Dark_Tzitzimine May 15, 2019 1:24AM
Remember when Yuri was a normal if apathetic HS girl?