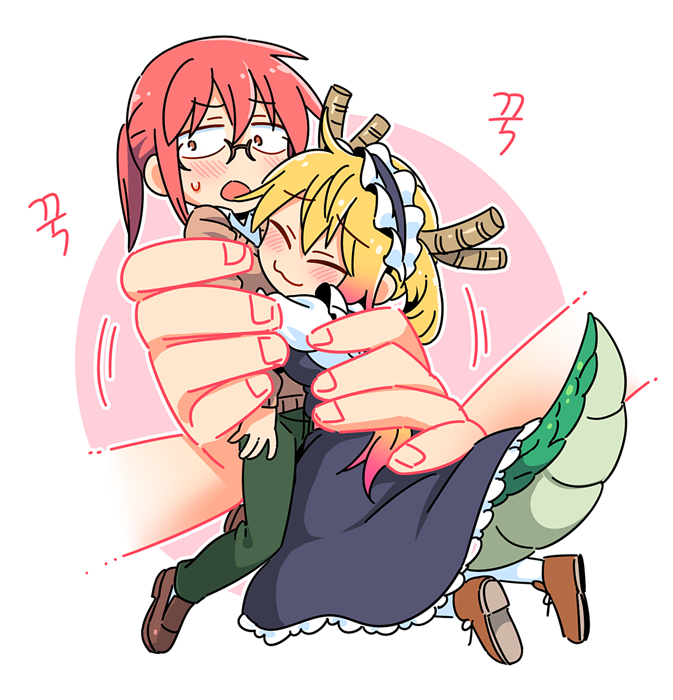 TheAlmightyUltimus Dec 12, 2018 10:58PM
See? Even who I presume to be the Big G himself ships these two. Need to hurry up and get their acts together or Kanna will beat em to it

2girls1love Dec 12, 2018 10:58PM
When you press W for Wumbo

GrimEater Dec 13, 2018 12:06AM
Hug is ma drug

TeruMoko Dec 13, 2018 12:19AM
When you ship a pair soooooo hard.

benja Dec 13, 2018 12:36AM
@2girls1love AND THEN COMES THE GIGANT FIST
lord-of-roses Dec 13, 2018 12:38AM
@2girls1love @benja
I'M SO GLAD IT WASN'T JUST ME WHO THOUGHT OF THAT
Aezeles Dec 13, 2018 1:08AM
master hand sis ships dragonmaid

chibipackrat Dec 13, 2018 2:04AM
DON'T LEWD THE LOLI DRAGON
Norainhere Dec 13, 2018 2:21AM
@everyone - thank you all for reminding me of that episode.

kickap00 Dec 13, 2018 3:29AM
Im laughing at these comments

carlosraruto Dec 13, 2018 5:11AM
Now Kiss!

venom Dec 13, 2018 6:15AM
the only way tooru will tolerate god

mg1342mg Dec 13, 2018 1:15PM
Tooru looks so happy.

blopa Dec 13, 2018 1:39PM
I pressume that Smash Bros also ships them?

BugDevil Dec 13, 2018 4:36PM
The hands of fate are relentless. Although Tohru's hug is already unbreakable in the first place.

AlterEgo Dec 14, 2018 2:56AM
didn't knew Master Hand and Crazy Hand were a fan of Yuri

15_crazy_monkeys Dec 15, 2018 9:08AM
Ебитес

almighty Dec 15, 2018 12:00PM
the hands of god
Salinthrous Dec 15, 2018 2:08PM
Does anyone else think those hands look like Kanna's?